BESPOKE, MEASURABLE, AFFORDABLE
Our Online Services
HELPING BUSINESSES SUCCEED ONLINE
Your Goal Is Our Goal
We are committed to your success. Whatever it is you're looking for, we won't stop until we've got you past them goal posts.
Get in touch
INTRODUCING…
PingPress Reports
Need anymore reason to give us a shot? We own custom built software that tracks your digital marketing campaign all in one dashboard. Whether it's Google rankings, Google Analytics, Google AdWords, Facebook Ads, Bing Ads, Social Media Integrations like Facebook, Twitter, LinkedIn, Youtube, as well as call volume analytics, everything you'll ever need to know is there. Get in touch and we'll set you up with a free 72 hour login for your site, just to test it out.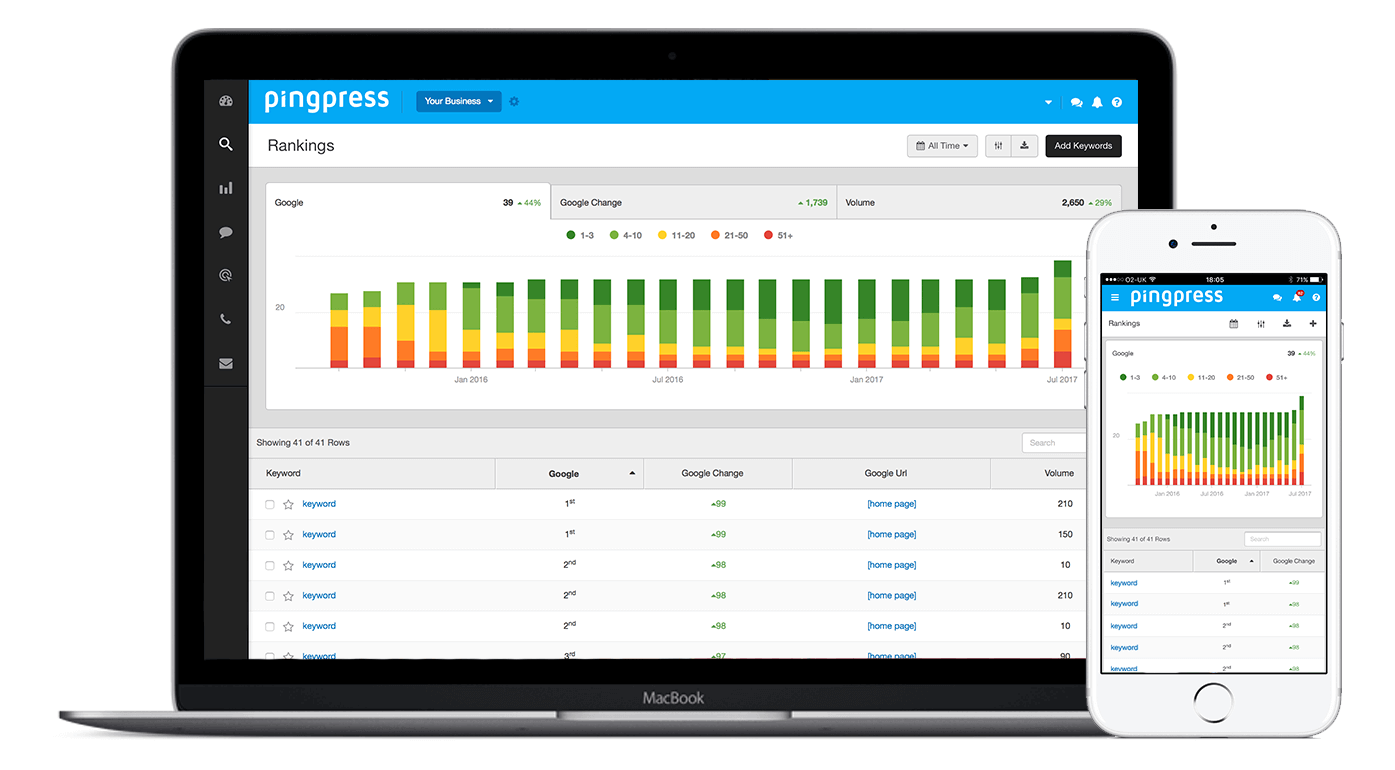 YOUR ONLINE SUCCESS STARTS HERE
Let's Talk!
Welcome To PingPress
We are an internet marketing and SEO company providing effective marketing services for various companies throughout South Wales. We offer many different services to help you online ranging from SEO, PPC, Social Media and more.
Our SEO services help to provide businesses with more customers through the power of the search engines. We achieve this by being one of the best optimisation companies in South Wales, getting you the top positions in Google for keywords related to your business. This method of digital marketing allows you to generate more customer enquiries each month. Some of our customers have achieved over 400% increases in traffic and enquiries since using our services. We take care of absolutely everything for you, giving you a completely hands off approach.
Although we are based as an SEO Cardiff & Newport company, we have clients throughout the whole of the UK.
If you are interested in our search engine optimisation or web design services, and would like to speak to us regarding your goals, please don't hesitate to call us on 02921 971 970 or alternatively fill in the contact form to the right and we will get back to you. Please note that we will have looked at your website and Google rankings before making contact, so will have a better understanding of what needs to be done.
Here at PingPress, our services are personally tailored to your specific needs. Whether you are a very small business or compete nationally, we have a solution to fit your needs.
PingPress UK
We are an SEO company in Cardiff and Newport, South Wales and work with you to achieve the results you desire at an affordable price. We focus on providing expert SEO and digital marketing services.
SEO Company
Search engine optimisation is the process of optimising your website to appear higher in the search engines for various searches. We offer affordable SEO services for local and national UK companies, achieving and maintaining high rankings.